International Cooperation

With support from the Chinese government and guidance from national and provincial leaders, the Chengdu Panda Base has launched the "International Long-term Cooperative Project of Giant Panda Breeding." This collaborative research effort focuses on giant panda breeding, ethology, protection, and education jointly with Japan, the United States, Spain, and France. 15 successfully-bred giant pandas resulted from this work, the largest number of panda cubs produced through international cooperative projects in giant panda breeding to date.

Adventure World in Shirahama, Wakayama, Japan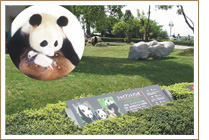 In 1994, the Panda Base aligned with Adventure World Wakayama on its first international partnership of giant panda breeding. Researchers jointly oversaw 8 successful pregnancies resulting in 15 cubs (12 of which have survived), raised $19 million USD in funding, and produced the best results among international giant panda breeding projects. The giant panda Mei Mei produced 9 cubs (7 of which survived) from 5 pregnancies in 2000, 2001, 2003, 2005 and 2006. At present, pandas Xiong Bang, Long Bang, Qiu Bang, Xing Bang, Mei Bang, and Yong Bang have returned to China after being born abroad.





Zoo Atlanta and the Georgia Institute of Technology, USA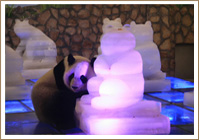 Since 1999, the Chengdu Panda Base has also worked closely with Zoo Atlanta and the Georgia Institute of Technology through the same international cooperative breeding project in Japan. Thanks to the specialized breeding techniques perfected by experts at the Panda Base, American-based giant panda Lun Lun achieved 3 pregnancies resulting in 3 cubs in 2006, 2008 and 2010. At the same time, the project made great strides in understanding giant panda ethology. Mei Lan, the giant panda born in 2006, returned home to China and presently serves as the ambassador for the famous Earth Hour campaign.





Madrid Zoo, Spain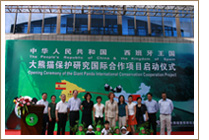 In September 2007, the Chengdu Research Base of Giant Panda Breeding officially launched mutual project in giant panda breeding with the Madrid Zoo , which has shown positive results. In September 2010, the giant panda Hua Zuiba gave birth to twins, marking the first success in breeding panda twins overseas via artificial insemination since the inception of China's long-term international cooperative breeding project. In November of the same year, Queen Sophia of Spain arrived at the Madrid Zoo to visit the giant pandas and feed panda cubs.





ZooParc de Beauval, France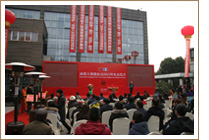 On January 15, 2012, male panda Yuan Zai and female panda Huan Huan flew from the Chengdu Panda Base to ZooParc de Beauval in France to serve as research subjects in a 10-year China-France joint project of giant panda breeding. The project concentrates on key technologies of giant panda breeding and a preliminary study of approaches for releasing captive pandas into the wild.







These successful collaborations between the Chengdu Panda Base and foreign zoos have effectively advanced the development of worldwide research on giant panda protection and have made significant contributions to enhancing international friendship and goodwill. Chengdu's image and reputation across the global community also grew throughout the process.

Scientific Research Cooperation

Through various projects, financial aid, joint research, talent exchanges, technology support, and focused training, the Chengdu Panda Base established a worldwide network for scientific panda research. This in turn fostered long-term cooperative relationships with many renowned zoos, research institutions, and universities both home and abroad.

World Wildlife Fund (WWF)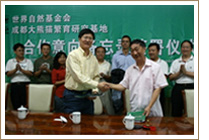 Since 2007, the World Wildlife Fund (WWF) Chengdu Office has worked with the Department of Conservation Education at the Chengdu Panda Base on several joint endeavors. In order to decrease pressure on the environment, the WWF launched alternative livelihood projects in communities in the vicinity of giant panda nature reserves, which have proven successful. Simultaneously, the WWF also placed great importance on promoting conservation education among local communities, further protecting native ecologies. On September 24, 2008 the WWF and Chengdu Panda Base formally partnered and signed a cooperation intention memorandum. As a result, both parties pledged their cooperation with efforts such as assessment of giant panda populations and habitats after earthquakes, reconstruction of ecological protection infrastructure in the nature reserves, conservation education, sustainable economy of communities, and release of captive pandas into the wild.





Global Cause Foundation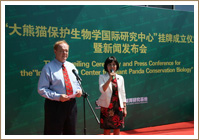 On June 7, 2011 the International Research Center for Giant Panda Conservation Biology was formally established. The center, co-founded by the Chengdu Research Base of Giant Panda Breeding and the Global Cause Foundation, marked a step forward in the process of international cooperation for protecting giant pandas and other endangered wildlife.







International Union for Conservation of Nature (IUCN)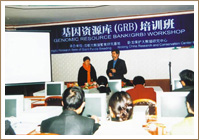 Since 1996, the Chengdu Panda Base has continued its research on giant panda biomedicine and reproductive biology alongside the International Union for Conservation of Nature (IUCN), (SSC), and the Conservation Breeding Specialist Group ((CBSG).
Collaborative projects focused on the following topics:
1. Giant Panda Gamete Biology;
2. Giant Panda Reproductive Endocrinology;
3. Giant Panda Biomedical Examination;
4. Establishment of Giant Panda Sperm Bank.





National Institutes of Health/National Cancer Institute (NIH/NCI), USA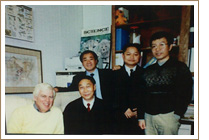 The Panda Base has continued work with the National Institutes of Health/National Cancer Institute (NIH/NCI), USA on several areas of concern to include:
1. Various research projects, including paternity testing in captive giant pandas
2. Establishing a Felidae (feline species) sample bank in China and contributing to the International Felidae Sample Bank
3. Studying the South China tiger genome resource bank and conservation biology
4. Genetic diversity studies among wild giant panda populations






East Bay Zoological Society, USA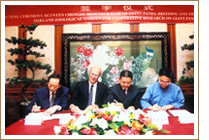 In 2002, the Chengdu Panda Base signed a cooperative agreement with the East Bay Zoological Society launching a conservation study focusing on giant pandas.










University of Maryland, USA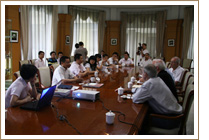 Laboratories from the Chengdu Panda base joined in technical exchanges with the University of Maryland in ultrasonic pregnancy diagnosis (B-mode) and biomedical analysis.









Drexel University, USA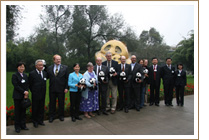 1. The Panda Base worked with both Drexel University and the Global Cause Foundation to conduct a project titled "Giant Panda Biophysical Ecology, Metabolism and Behavioral Expression." Scientists James Spotila, Benjamin Kilham, and Krzysztof Cena were invited to present reports discussing their studies on releasing captive black bears into the field and current metabolism research.
2. Drexel University and the Chengdu Panda Base also designed and established the International Research Center for Giant Panda Conservation Biology. Significant contributions coming from the center involve the following:
  ① Research on giant panda energy metabolism
  ② Partnering Chinese and American centers and schools for cultural exchange and cooperative events in Chengdu.  
Partner Centers and Schools
Chengdu Education Center for International Exchange
Global Culture-to-Culture Center
American Bullis School
Dujiangyan Foreign Languages School
Chengdu Sanyuan Foreign Languages School





Oakland China Wildlife Preservation Foundation, USA

In 2002, the Panda Base launched a cooperative project with the Oakland China Wildlife Preservation Foundation to raise funds for panda preservation in the United States.





Conservation & Research Center, Smithsonian National Zoo, USA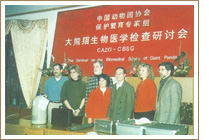 The Chengdu Panda Base worked with the Conservation & Research Center of the Smithsonian National Zoo, USA on several research projects to include:
1. Etiology of Giant Panda Breeding Disorders;
2. Study of Blood Serum In Epidemics Among Giant Panda and Red Pandas;
3. Research and Development of a Genetic Engineering Vaccine for Canine Distemper In Giant Pandas.







University of Glasgow, U.K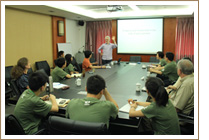 The Panda Base and University of Glasgow joined together on the "Analysis of Giant Panda Lactoprotein and Preparation of Synthetic Lactoprotein" in a specialized collaborative project.









Chester Zoo, U.K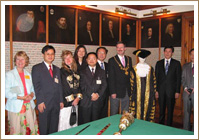 In 1999, the Panda Base teamed up with the Chester Zoo, UK on giant panda research in the following fields:
1. reproductive biology;
2. genetic research;
3. nutrition research
In 2001, the Panda Base intensified its joint research with the University of Liverpool through a grant from the Wellness Trust that enabled researchers to isolate and track giant panda microsatellite markers. These are short tandem repeats in genetic sequences used to determine kinship among a group of organisms. This research in microsatellite markers earned the Chengdu Science and Technology Progress Second Prize in 2007, and was then applied in the research and development of microsatellite markers for Chinese tigers, red pandas, forest musk deer, macaca thibetana and other rare Chinese animals. Currently there are over 10 PhD and Masters candidates specializing in this technology.
Since 2005, the Base has launched a series of conservation education projects.





Nihon University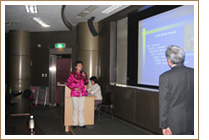 In 2004, the Base signed an inclusive cooperative agreement with Nihon University that addressed the following:
1. Setting up research institutions in each other's country;
2. Agreements to launch joint research projects
3. Exchanging scholars and researchers;
4. Conducting cultural exchange between two countries.
In 2006, the Base signed a research intern project agreement with Nihon University.





Keio University and Obuchi Foundation, Japan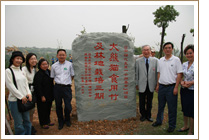 From 2001 to 2007, the Base has worked closely with Keio University and the Obuchi Foundation to discover more edible bamboo species for giant panda consumption. Investigators planted over 5000 bitter bamboo seeds including Bambusa multiplex, indocalamus, and two kinds of Chimonobambusa bamboo over a 3km2 swath of land at the Chengdu Panda Base, which appeared successful in preliminary reports.







Cooperation Platform

1. Since 1989, the Base has organized and hosted 19 international seminars on giant panda conservation, known as the Annual Meeting of Technical Committee for Giant Panda Breeding.

2. From 1998 to 2000, the Base has organized Examination for Giant Panda Biomedicine three times. Between 1998 and 2009, it launched 10 technical training events including the "Comparative Study of Tubule Frozen Sperm Approaches for Giant Pandas," "Study of Paternity Tests for Captive Giant Pandas," "Study of Microsatellite Technology for Giant Pandas," "Feline Sampling," and "Seminars on Training for Captive Giant Panda Heredity Management." Through the above meetings and technical training events, the Base was able to discuss strategies and exchange research results about giant panda conservation with experts from more than 10 countries. Contributing nations included the United States, Japan, and the United Kingdom, creating an open and friendly international platform to further giant panda conservation.


Exchange Activities and Talent Training

In recent years, the Chengdu Panda Base has encouraged international academic exchange activities by inviting renowned experts and scholars to the Base to deliver lectures or to work with the animals. In 2008, Gail Hedberg from the San Francisco Zoo reported on her research in a lecture titled "Matters Concerning the Importance of Colostrum and Scale of Feeding for Cats and White Bears." In 2010, the Panda Base and University of Maryland worked jointly on an ultrasonic pregnancy diagnosis (B-mode) and biomedical analysis project. Over the course of a decade, the Base has worked to encourage international talent training and has sent 119 people to work and study abroad.