According to the Changsha Evening News, March 24, 2008, a giant panda named Qing Qing from Chengdu became the most popular star at Changsha Zoo, with visitors crowding before its enclosure. The cherry garden in Hunan Forest Park was crammed with tourists, and in front of the ticket-free provincial museum there was a long queue. After a couple of continuous rainy and overcast days, the last weekend became sunny and lots of people go outing, seeing flowers and visiting cultural relics.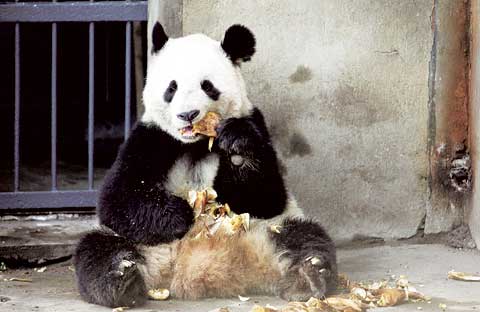 Qing Qing's move has made the Zoo burst at the seams with people who are eager to see a giant panda. "From the number of tourists, it felt like the first day of the week long May holiday!" said a Zoo employee. In the Zoo parking lot, there were a lot of cars from other cities with license plate headings such as XF, XC and XB. A tourist from Zhu Zhou named Li Minglaing said that his 8-year-old son asked him again and again to take him to see the giant panda since its arrival at Changsha Zoo. He got up early and came to Changsha yesterday with his son to grant this wish.
  The Zoo staff reminded the tourists from time to time to keep quiet while watching Qing Qing as so as not to stress her out. In addition, tourists are advised to avoid peakholidays if possible; there will be plenty of opportunities to see the panda as Qing Qing will be living in Changsha for a least one year.
  Translated by Kitty Hee
  English edited by E.H. King