Recently, Chengdu Research Base of Giant Panda Breeding (hereinafter referred to as "the Base") received a letter from Adventure World in Shirahama, Japan that the giant panda cub born on September 18, 2016 was named "Jie Bang" through a public naming contest. As "Jie" means mutual help and interconnection, "Bang" (the same as "滨" in Chinese) means coast and waterfront, "Jie Bang" thus indicates that the cross-border "Bang Family" will inherit traditions, span and connect varied values, cultures, languages and populations, so as to create a better future. The public naming contest attracted more than 50,000 letters or calls, and the chosen name was contributed by Naomi Tuzuo a music teacher from Arakawa-ku, Tokyo.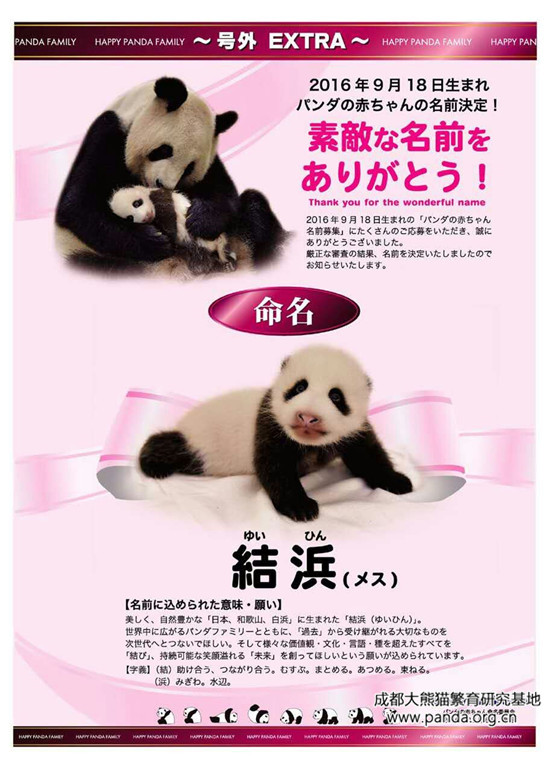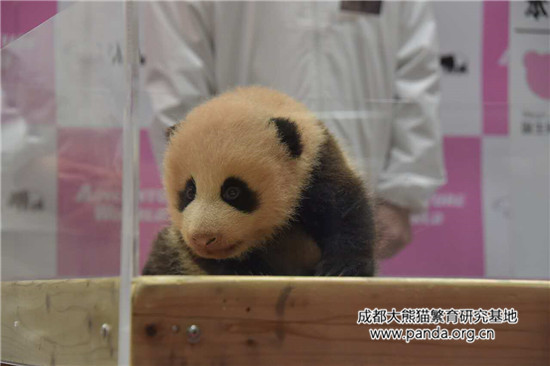 Han, a breeder from the Base assisting in the breeding of giant pandas in Adventure World in Shirahama, expressed that he feels lucky to be dispatched to Japan to take care of "Jie Bang" and witness its birth and growth process. "Jie Bang" is quite vivacious and curious about things, when sensing the breeder's coming, it will belly impatiently and want to fall into the breeder's arms and will also wave its paws cutely while sucking the breast, the breeders thus reach a consensus that it is simply a little foodie. Moreover, the little foodie "Jie Bang" has grown to 4,465 grams from its birth weight of 197 grams benefiting from its mother Liang Bang's breast breeding.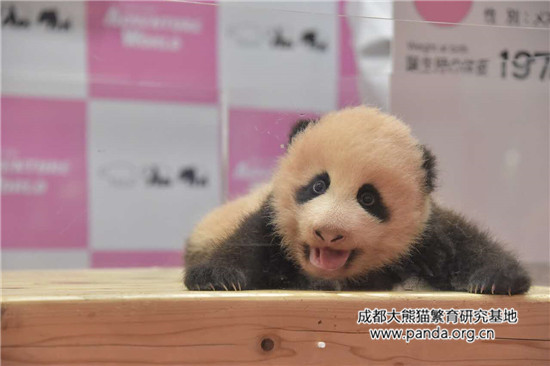 "Jie Bang" is the eighth child of "Yong Ming" and "Liang Bang", and "Liang Bang's" fifth delivery. "Jie Bang's" older siblings include "Yong Bang" and "Mei Bang" on September 13, 2008, "Yang Bang" and "Hai Bang" on August 11, 2010, "You Bang" on August 10, 2012 and "Tao Bang" and "Ying Bang" on December 2, 2014. "Mei Bang" and "Yong Bang" now call Chengdu Research Base of Giant Panda Breeding their home.