The excited tourists on the scene said: "Look! Is that Fushun? Is our little grey Chengshi beside Fushun?"

On January 20, 2017, 23 superstar pandas born in 2016 at the Chengdu Research Base of Giant Panda Breeding and their breeders gathered together to form "2017" to give good fortune to all people around the world.

On September 28, 2016, in the playground of moon maternity ward of Chengdu Research Base of Giant Panda Breeding, 23 baby giant pandas gathered together and made their first appearance. These cute and adorable baby pandas dominated all media and websites worldwide. The panda falling on its face in headstand, the unkempt grey hair panda and others are beloved all over the world. In their second appearance, these pandas have grown from sleepy and slowly crawling babies to tree climbing experts who conquer trees in an easy manner; they have grown from crying babies to cubs chasing their wet nurses. Every step of their growth has received much attention.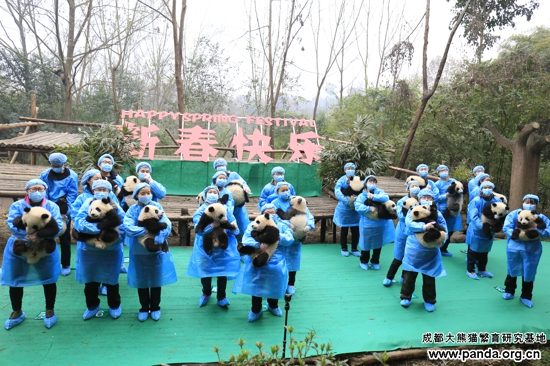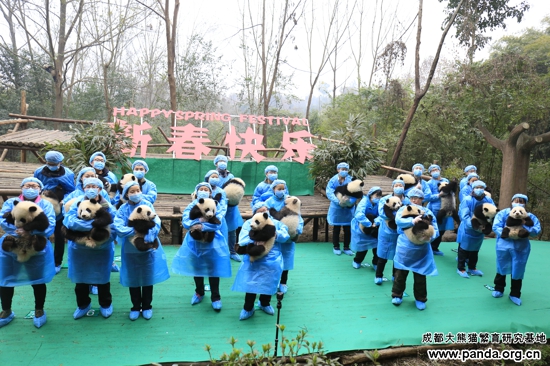 Explore the Private Life of Celebrated Pandas and Send Best Wishes to Netizens

Fushun, a baby panda standing at the core of the team, has grown from 175.2g at birth to 10,200g and this popular baby panda is famous for falling in his first appearance; he won thousands of fans. According to his breeder, Fushun is popular with both human beings and pandas and he loves to roll on the ground. Actually, the upside-down Fushun is meant to give good fortune to you and upside-down "Fu" indicates that good fortune arrives.

The baby panda Chengshi which is next to Fushun gradually becomes black and he is the most recognizable one because of his grey fur. You can always spot Chengshi first and separate him from a group of black and white pandas. Chengshi is not only the clingiest one but also the sleepiest panda among his classmates. Chengshi sends best wishes to you, wishing you all to sleep and eat well, live a pleasant life and work calmly.

On the scene, 23 breeders holding 23 baby pandas wished people all over the country, overseas Chinese people and overseas Chinese residents happy spring festival in a slight voice! Good fortune has arrived in 2017!
An Overview of the Achievements of Giant Panda Protection in 2016 on the Occasion of Ringing Out the Old Year and Ringing in the New Year

The year 2017 is the 30th anniversary of the establishment of Chengdu Research Base of Giant Panda Breeding. Since 1987, Chengdu Research Base of Giant Panda Breeding has assumed the heavy responsibility for ex-situ conservation and giant panda conservation. Starting from six ill and hungry giant pandas rescued from the wild, without field capture, Chengdu Research Base of Giant Panda Breeding has bred 158 births including 243 babies as of 2016, of which 176 babies survive, and has successfully created the world biggest captive giant panda population. It has made remarkable achievements in terms of scientific research, breeding, conservation education and tourist education.

In 2016, the popularity and reputation of the international cultural brand of Chengdu's giant pandas significantly improved. Giant pandas, as the most popular attraction of Chengdu, are known worldwide. Pictures of the first collective appearance of giant pandas born in 2016 have been published by mainstream media throughout the world including Reuters, The Atlantic Monthly and Time. The photo was elected as the best picture of 2016, creating a panda craze for these cute giant pandas. In addition, in 2016, Chengdu's cultural brand of giant pandas spread across the world and panda art exhibitions were mounted in South Korea, Hong Kong, Japan, Beijing, Chengdu and the United States. Global panda lovers came to explore the hometown of the pandas.

In 2016, Chengdu Research Base of Giant Panda Breeding ranked first in the world in terms of breeding and always adhered to scientific feeding aiming at cultivating scientific breeders and "four-heart" (i.e., caring, patient, careful and persistent) breeders in terms of feeding management. From scientific raising, preparations prior to estrus, estrus and prenatal preparations to baby raising, it did a good job in every area. In 2016, Chengdu Research Base of Giant Panda Breeding recorded 19 births totaling 30 babies, of which 27 babies survived; it also recorded 12 births of lesser pandas, of which 14 survived.

As for prevention and control of diseases of giant panda, by vaccinating and employing preventive parasite expelling for relevant infectious diseases of all giant pandas, lesser pandas and rare and valuable birds on the Base, Chengdu Research Base of Giant Panda Breeding kept all of the animals' healthy. Staff completed 25 quarantines for giant pandas participating in exhibitions at home and abroad and those returning to the Base from external exhibitions. Staff also completed import quarantine of two giant pandas coming from abroad, and export quarantine of two lesser pandas. Surgeons conducted an intestinal obstruction operation for a giant panda named Nannan, removing about 7kg of excrement during the operation, Breeders monitored Nannan 24 hours a day after the operation to guarantee her gradual recovery. In the course of completion of prevention and control of diseases of giant pandas, lesser pandas and rare and valuable birds, our fellows in the Animal Disease Prevention and Control Department held a leading position at home and abroad in terms of active engagement in scientific research, completing an appraisal of the project entitled"Technical Study on Improvement of Health and Fertility of Captive Giant Pandas", and identified that the etiological agent resulting in chronic malnutrition syndrome of giant panda is an animal-derived protein allergy.

In terms of studying the wild release of captive giant pandas, the Base learned from the experience of a researcher in the United States specializing in the reintroduction of black bears, and cooperated with Global Cause Foundation to conduct study on wild training and reintroduction of captive giant pandas through assisted soft reintroduction and wild training method.

Since April 2014, the Base has conducted reintroduction training for individual giant panda many times and successfully carried out assisted soft reintroduction and wild training for several batches of captive giant pandas of different ages, and gaining staged achievements. Scientific research teams engaged in wild release to give necessary rescue to wild released pandas.

Looking forward to 2017, we believe that, protection of giant pandas will move forward in a positive way, and Chengdu's international cultural brand of giant panda will become more and more popular.