Recently, the Chengdu Research Base of Giant Panda Breeding, partnering with Conservation International ("CI"), invited the world-renowned film star Lee Pace to the Base to participate in a conservation experience as a giant panda breeder. Lee Pace is known to Chinese film fans as the King of the Elves in the film The Hobbit. He has made long-term commitments to public welfare undertakings. In March 2016, he lent his voice as "Mountain" in a public announcement of CI's Nature Is Speaking and called on everyone to cherish the environment and protect nature; in February 2017, he dubbed for the virtual reality film Under the Canopy commissioned by CI, for the protection of Amazon forests. Enthusiastic about public welfare projects, his visit to Chengdu Research Base of Giant Panda Breeding to participate in the conservation activities was a way to care for endangered wild animals. The organizers' intent was to focus global attention to the ecological environment of earth through some hands-on activities.
On the day of the conservation event, Mr. Pace went to the Moon Delivery Room, Panda Kindergarten, Panda Kitchen and other major venues at Chengdu Research Base of Giant Panda Breeding. He learned how to feed panda babies with a bottle of milk from Mei Yan, the online celebrity panda mommy, and learned how to feed sub-adult pandas with apples from Tan Jintao, the breeder from Panda Kindergarten; he also learned how to make steamed corn bread for the pandas. He felt that the most importance experience for him was to learn how to feed the panda cubs with a bottle of milk. When mommy Mei cried "Come and drink nei nei" in Sichuan dialect, panda babies who had been playing on the playground cleverly ran to mommy and sat quietly on the grass, waiting for daddy Lee Pace and mommy Mei to hand over feeding-bottles to them. Under the guidance of mommy Mei, Mr. Pace carefully handed the bottle to the mouth side of panda babies, and the cute cubs could not wait to grab the bottle and drink it like human babies. Mr. Pace waited patiently while panda babies drank milk little by little until they finished the bottle.
"They are really cute! They should not be extinct because of human behavior, and we must protect the environment which they live in." The brief time together with pandas made Mr. Pace become interested in the protection of pandas.
What was most amazing to Mr. Pace was to watch the behavior training of pandas. Trainer, James Ayala James was very patient, training pandas in a step-by-step manner. Mr. Pace learned that the training was intended to prepare the pandas to return to nature. He said he hoped that these lovely babies could return to their "home" soon, saying that the best protection is that they can live in their own homeland freely.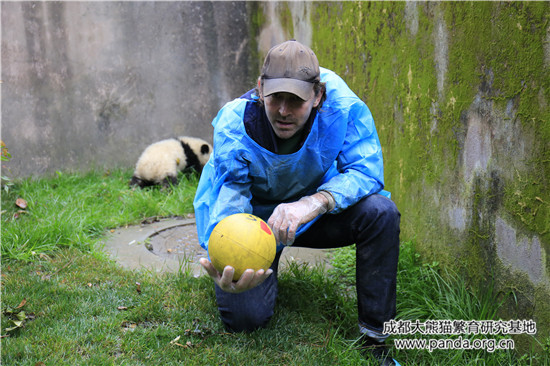 Finally, Mr. Pace watched the promotional film for conservation education in the conference room of the Base. From the short video, he learned that Chengdu Research Base of Giant Panda Breeding was established 30 years ago. In the past 30 years, the Base has made innumerable great achievements and remarkable progress in scientific research and breeding, conservation education, tourism, wild-release research and other endeavors. It has mastered the world's leading core technology for giant panda research and breeding, overcome scientific and technological problems in panda protection, built the "Sichuan Key Laboratory of Conservation Biology for Endangered Wildlife" and the "National Postdoctoral Research Station", made more than 70 achievements in scientific research at all levels, obtained 14 patents for national invention and utility model, published more than 400 papers in international and domestic well-known journals. As of 2016, the Base bred a total of 175 pandas which constitutes the world's largest artificial breeding population of captive giant panda. Meanwhile, with nearly 4 million visitors annually, the Base is the world's best giant panda tourist destination and also a must-see for foreign tourists travelling to China.
After the promo video ended, Dr. Zhang Zhihe, Director of Chengdu Research Base of Giant Panda Breeding awarded Mr. Lee Pace the certificate of "Image Ambassador of Chengdu Pandas", and Mr. Pace said that from the short video he learned that the Base has obtained such remarkable achievements in only 30 year since its establishment, which is a very great thing. The giant panda conservation experience this time deepened his understanding of the current living status and protection profile of the giant panda. He was willing to be a qualified "Image Ambassador of Chengdu Pandas" and and to use his influence to call for people's attention to the protection of giant pandas and their living habitats.
Finally, Yang Jing and Song Zhaorui, the representatives of Chengdu middle school students made hand knitting panda dolls on site. Mr. Lee Pace watched the whole producing process of the handiwork with great interest, and had friendly interactions with these students. At last, the representatives of students gave the hand knitting panda dolls to Lee Pace as presents and then he happily posed for photographs with these students.
Throughout the short one-day conservation experiencing event, Mr. Lee Pace was both excited and moved. Before the farewell, he said that he would always pay attention to the giant panda, be concerned about Chengdu Research Base of Giant Panda Breeding, and hoped that he could have the opportunity to come back to Chengdu to see panda in the future.