On July 18, Chengdu Research Base of Giant Panda Breeding and Baofeng New Culture, a part of Baofeng Group ecosystem, jointly held a press conference in Chengdu. The two sides signed a long-term strategic cooperation agreement on giant panda-themed VR/AR development and intellectualized reconstruction, which saw Baofeng New Culture become the exclusive partner for VR/AR development of Chengdu giant panda IP in China. The leaders and honored guests present at this press conference included Fu Yonglin, Director of Sichuan Provincial Tourism Development Commission, Yang Qiying, Deputy Director of Chengdu Municipal Tourism Department, Luo Ye, Deputy Director of Chengdu Administration Bureau for Forestry and Landscape, Dr. Zhang Zhihe, Director of Chengdu Research Base of Giant Panda Breeding, Li Yuanping, Vice-president of Baofeng Group, President of Marketing Center and CEO of Baofeng New Culture, Liang Liang, CEO of Sichuan Baofeng Xuanmen Culture Communication Co., Ltd., and Zhang Yunhui, President of BJ-Dragon Films Co., Ltd., among others.
Giant panda, as the "national treasure" and "living fossil" of China, is a flagship species for biodiversity protection worldwide as well as a "goodwill messenger" of China for cultural exchange with foreign countries. In the future, Baofeng New Culture and Chengdu Research Base of Giant Panda Breeding will jointly establish the "Hi, Panda VR Theme Park", with a view to creating a super global IP surrounding the core cultural brand of giant panda. It will be based in Chengdu and partnered with 66 domestic giant panda parks, involving 15 overseas countries, including the U.S., France, Canada, Spain, among others, and 20 giant panda parks,
At the press conference, Fu Yonglin, Director of Sichuan Provincial Tourism Development Commission addressed the audience, enthusiastically congratulating the signing of strategic cooperation between Baofeng New Culture and the Base. Mr. Fu noted that the "13th Five-year" Tourism Development Plan of Sichuan Province defined Sichuan's strategic conception of creating four eco-tourism series festival and event brands surrounding flowers and fruits, red autumnal leaves, giant panda and forest culture, Meanwhile, the plan also proposed that CPC Sichuan Provincial Committee and Sichuan provincial government cultivate tourism as a pillar industry of the province, especially attaching importance to the cultivation of giant panda "brand".
Subsequently, Dr. Zhang Zhihe, Director of Chengdu Research Base of Giant Panda Breeding, announced that as of the end of 2016, the Base had 175 pandas, which is the largest manual breeding population of giant panda worldwide and also the best tourist destination for watching and learning about the giant panda and lesser panda for the public. The world has been ushering in the VR era quickly, and improving tourists' travel experience with the help of VR has become a new trend in the tourism field. The Base will closely follow the trend of social development and create an experience pavilion integrating knowledge and research, science popularization and education, protection and rescue, international exchange, publicity and guidance, and entertainment and leisure relating to giant panda in partnership with Baofeng. Through the use of innovative science and technology, the tourists' sightseeing quality at the Base will improve by strengthening the depth of experience and truly realizing an "immersive" green tourism model.
Li Yuanping, Vice-president of Baofeng Group, President of Marketing Center and CEO of Baofeng New Culture, introduced this project and noted that this cooperation with the Base will be focused on the theme of giant panda, It will conduct smart experience upgrading of giant panda scenic spot and the commercial development of derivatives leveraging internet technology, VR/AR and other technologies. In addition, it will enrich smart giant panda experience spots , better meet tourists' fundamental needs of "close contact" with giant panda, enhance tourists' entertainment experience. It will also create superior-quality products and game products, continuously create traffic and derived value, spreading the culture of giant panda in the forms of VR/AR, video, live webcasting, game and others. The project will create a win-win situation in both social and economic benefits, build an industrial ecosystem of giant panda super IP, form a self-circulation system and further trigger new businesses and models of tourism and culture.
At the press conference, Dr. Zhang Zhihe and Ms. Li Yuanping, on behalf of their own units, signed the agreement and noted that they would, by the end of this year, complete the creation of "Hi, Panda VR Theme Park", the first giant panda museum in China, which will consist of experiencing exhibition hall, immersive cinema, interactive exploration center, multi-dimensional leisure and entertainment center, high-end derivatives area, among others, and increase smart experience spots for spot sightseeing in the Base, as well as conduct design, research and development for giant panda VR/AR derivatives, VR interactive game and VR film, and enrich the virtual contents of giant panda-themed IP, so that the fans of giant panda worldwide can make direct contact with giant panda at any time through "time tunnel" built through VR technology.
At this press conference, Baofeng set an on-site VR/AR industrial experience zone and brought the newest Baofeng magic mirror Matrix all-in-one machine and AR products. The leaders and guests as well as media present had a live experience. which was intended to make people feel confident in and expect the product development of giant panda VR/AR in the future through such experience and feel of new technological innovation cases.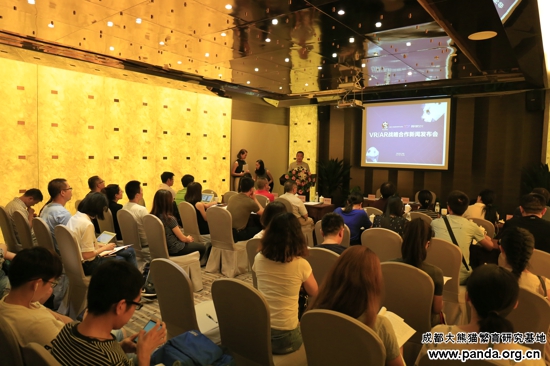 Signing ceremony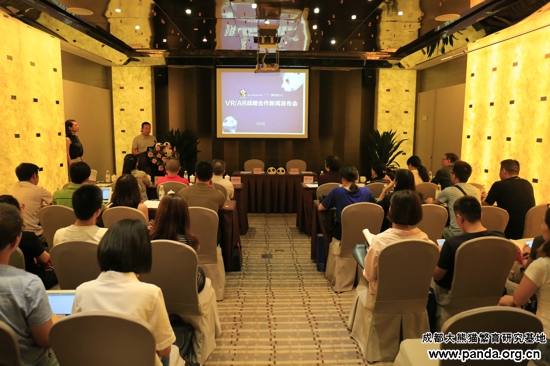 Signing ceremony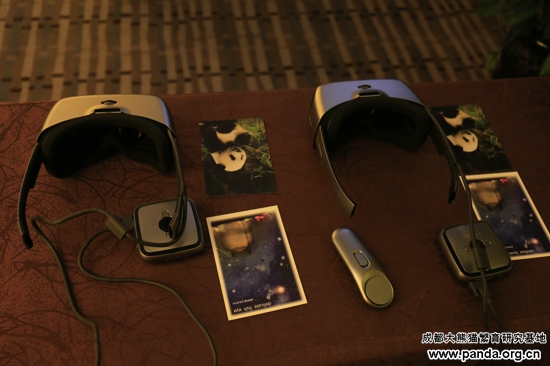 Signing ceremony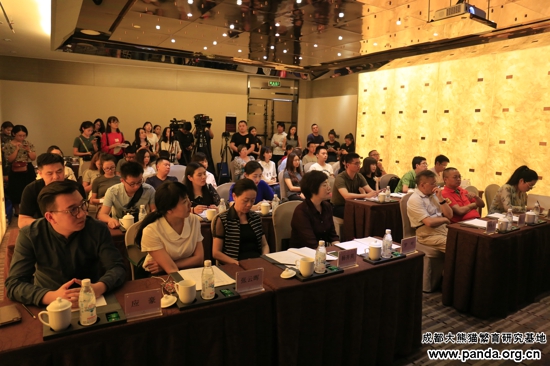 Signing ceremony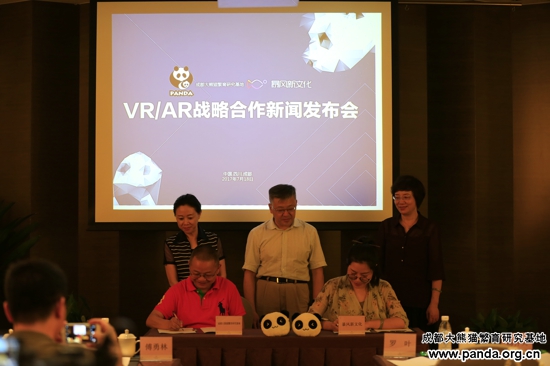 Signing ceremony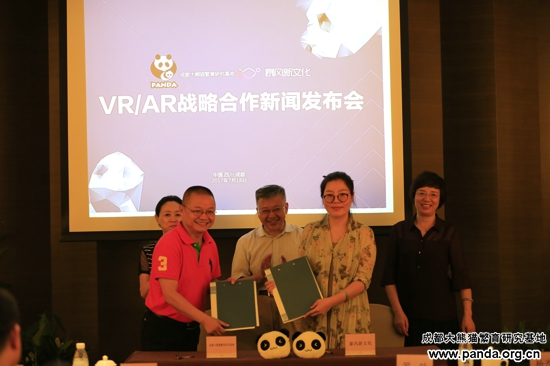 Signing ceremony