On the afternoon of September 28, 2017, a special plane landed in Chengdu's Shuangliu International Airport. The Giant Panda "Xing Bao", after spending more than four years of his childhood in Madrid, Spain, has returned to his parents' birthplace-Chengdu, Sichuan, the home of giant pandas.
The Chengdu Research Base of Giant Panda Breeding could barely contain its joy and happiness for Xing Bao's return. The Base staff arranged a Sino-Spanish giant panda corridor, a standing sign of a cartooned "Xing Bao" and a placard detailing his continuing story. As an added treat, all visitors could get a tailor-made postcard with a Xing Bao theme.
At 4 pm, the long-awaited "Xing Bao" was carefully escorted into the quarantine zone. His materials were handed over from his Madrid feeder to the Base staff. For the following month, "Xing Bao" would be completely quarantined.
Adiós to Spain's Beloved Panda
The male giant panda "Xing Bao" was born on August 30, 2013. This lively and adorable cub's name was chosen thanks to an online poll. "Xing Bao" means the baby of Madrid. He was loved by people from Spain and the world. As the cutest goodwill ambassador, his every move was watched by the country. Soon after his birth, "Xing Bao" was visited by Queen Sophia of Spain.
According to Chinese policies on International Scientific Research on Giant Panda Conservation and the bilateral agreement, all giant pandas born overseas should return to China before their sexual maturity. Therefore, China and Spain made September 26, 2017 the date Xingbao would "Xing Bao" set off for his trip back to Chengdu.
On that day, the shining sun was overshadowed by the clouds in the hearts of Spanish panda fans as "Xing Bao" was leaving. Madrid Zoo launched a farewell event on its Facebook long before. Many Spaniards expressed their reluctance to say goodbye to "Xing Bao". Local media and panda fans voluntarily went to the Madrid Zoo to see off "Xing Bao" until he was loaded into a van to be taken to the airport.
Before parting, Rebecca, a feeder from the zoo, who was also the panda mommy of "Xing Bao" said emotionally: "Xing Bao" is a little angel that came from heaven to the mortal plane. It breaks my heart to part with him. He will always be my treasure.
Fruitful Sino-Spanish Cooperation
In order to protect the rare species of giant panda, the Chinese Association of Zoological Gardens and the Madrid Zoo in Spain reached an accord between the Chengdu Research Base of Giant Panda Breeding and the Madrid Zoo to jointly research on giant panda breeding. Thanks to concerted efforts, the giant panda "Hua Zuiba" (Stud No. 519) successfully gave birth to 4 cubs across 3 litters with all four survived. The fruitful Sino-Spanish cooperation has won international renown and received widespread support for China's giant panda conservation.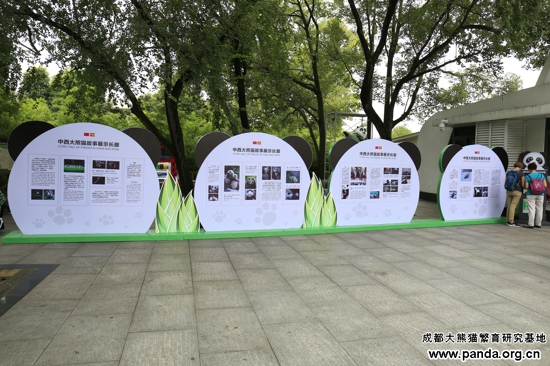 Sino-Spanish Panda Corridor
Apple time!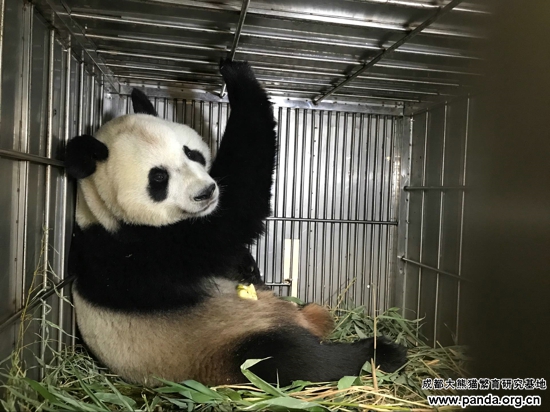 "Xing Bao" at the cargo transfer station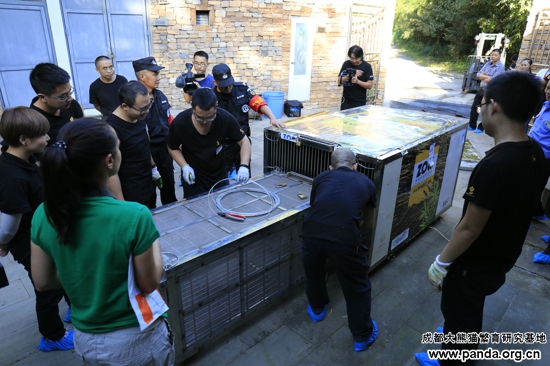 "Xing Bao" arriving at the Chengdu Research Base of Giant Panda Breeding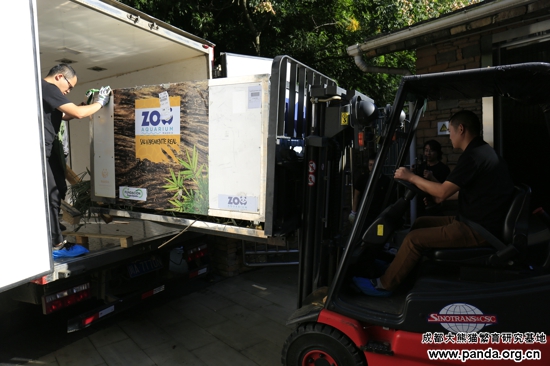 "Xing Bao" arriving at the Chengdu Research Base of Giant Panda Breeding