The 5th Seminar on Giant Panda Conservation in the Cross-Strait, Hong Kong, and Macau was held in Macau on November 26-29, 2017. This seminar was undertaken by IACM, and over 100 experts and scholars from nearly 40 institutions dedicated to giant panda conservation, conservation areas, zoos, and research centers on both sides of the Taiwan Strait, and in Hong Kong and Macau attended the seminar. The experts and scholars presented over 20 special reports on various issues, including scientific research and protection of the giant panda, in situ conservation and ex situ conservation, conservation areas development, disease prevention, and public education. This seminar strengthened technical exchanges among giant panda conservation institutions and promoted the development of giant panda conservation.
The Chengdu Research Base of Giant Panda Breeding reported thrice at the seminar: "Reflections and Prospects of Giant Panda Ex Situ Conservation at the Chengdu Research Base of Giant Panda Breeding over the Past Three Decades", "Environmental Enrichment and Behavior Training under a Scientific Management Mechanism", and "Boycotting the Wildlife Trade Through Protection and Education", and shared what the research base had experienced and achieved in giant panda ex situ conservation regarding three perspectives: scientific research and protection, feeding and management, protection and education.
At the seminar, representatives signed an initial written proposal for the 5th Seminar on Giant Panda Conservation in the Cross-Strait, Hong Kong, and Macau, which strives to promote wildlife conservation, particularly giant panda conservation, on a continual basis in the future. This proposal constitutes multiple topics, e.g. encouraging more people to participate in giant panda conservation and education as well as other endangered animal and plant species, and step up conservation of wild animals and plants; actively promote giant panda in situ conservation, and heighten wild giant panda population protection; improve communication mechanisms, continue to increase interdisciplinary, inter-agency conservation and research, and intensify personnel exchange; strengthen wildlife diversity conservation, bolster professional training to enhance conservation and education levels, and promote developing balanced public education on the giant panda.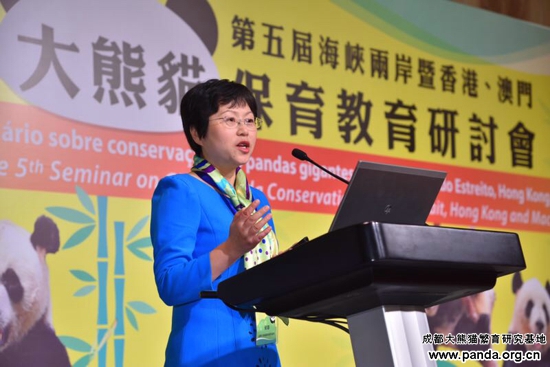 The Chengdu Research Base of Giant Panda Breeding at the 5th Seminar on Giant Panda Conservation in the Cross-Strait, Hong Kong, and Macau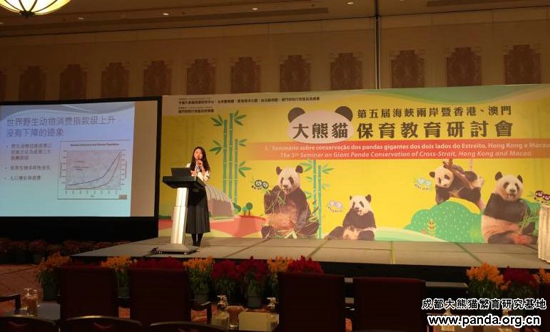 The Chengdu Research Base of Giant Panda Breeding at the 5th Seminar on Giant Panda Conservation in the Cross-Strait, Hong Kong, and Macau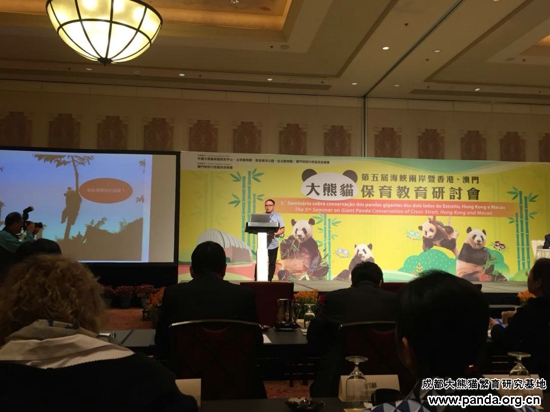 The Chengdu Research Base of Giant Panda Breeding at the 5th Seminar on Giant Panda Conservation in the Cross-Strait, Hong Kong, and Macau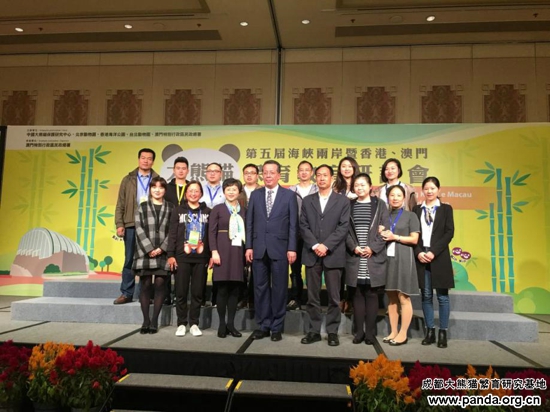 The Chengdu Research Base of Giant Panda Breeding at the 5th Seminar on Giant Panda Conservation in the Cross-Strait, Hong Kong, and Macau