"We will promote international communication capacity, emphasize China's story, and demonstrate the true, layered, and comprehensive China and improve its cultural soft power", as pointed out in the report from the 19th Congress. "Emphasize China's story" became an important concept and requirement concerning building a socialist culture with Chinese characteristics, and all walks of life triggered a deluge of "emphasizing China's story". The giant panda — became a unique cultural element of our country. The Chengdu Giant Panda Breeding Research Base (the Base) was the first to try using this unique medium to tell China's story.

On November 16, China's Pandas series global roving expo project kicked off with a cooperation signing ceremony hosted at the Base. Base Director Zhang Zhihe and Tianyu Culture Group Co. Chairman Song Peiran jointly signed The"China's Pandas" Series Global Roving Expo Promotion and Cooperation Agreement and announced its official launch.

Base Director Zhang Zhihe mentioned in his speech that he wanted to emphasize China's story and spread songs praising China. The giant panda is great at carrying a tune. Their cooperation is helped by the giant panda and carries the spirit of the 19th National Congress while promoting the prosperity inherent in a socialist culture. It will also enrich the content and depth of Chengdu's panda cultural and creative industries and increase the visibility and reputation of Chengdu giant panda cultural products internationally while also raising awareness among the public regarding giant pandas and other endangered wildlife, spreading concepts of environmental and ecological protection.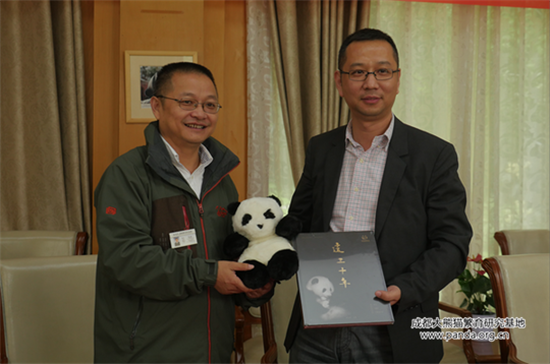 In line with China Museum Association Director and Tianyu Culture Group Co. Chairman Song Peiran, China's Pandas global roving expo will travel to museums, exhibition halls and other venues along the Belt and Road, the Americas, Asia, and 20 other countries and regions. Photographs, paintings, sculptures, and other works of art from renowned artists in China, France, Germany, Russia and other countries as well as panda fossils, specimens, fur, and other objects will be unveiled along the route. The exhibition will also employ the latest curatorial ideas and display techniques with unique visual and interactive experiences for the audience. A total of 15 million visitors are expected to visit.