——The First Snowfall in the Zhonghua Panda Valley of Dujiangyan in 2018
A timely heavy snow promises a good harvest. In the early morning of January 8, 2018, the first snow fell in Dujiangyan City. The Zhonghua Panda Valley—Dujiangyan Breeding and Wild Release Research Center affiliated with the Chengdu Research Base of Giant Panda Breeding is covered in snow and just beautiful. This rare occurrence for this basin us a wonderful gift of the new year for Chengdu Plain. The lovely giant pandas which love to live in a wet and cold environment are also enjoying this surprise, like every one of us. Rolling and gamboling in the snowfield, they are really having fun.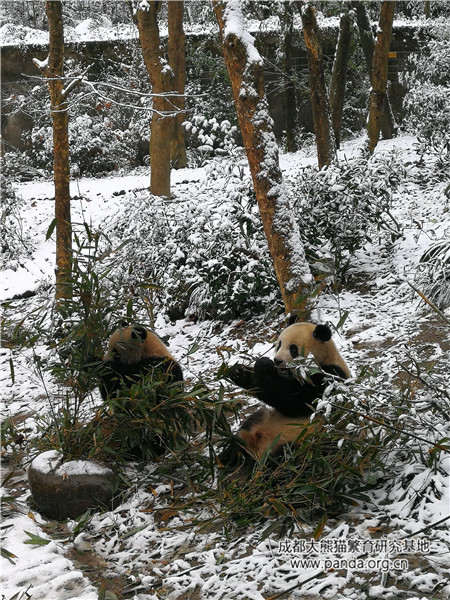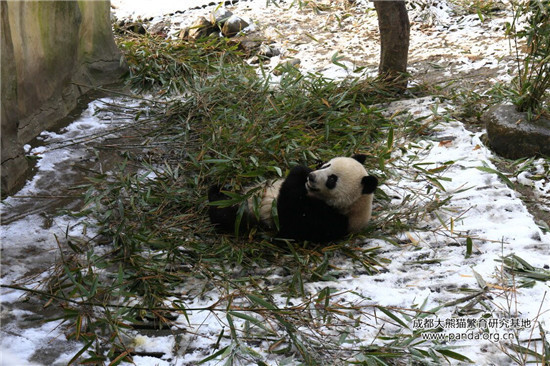 In the Zhonghua Panda Valley, in Yutang Town of Dujiangyan City with an area of 2,004 mu, live more than 10 giant pandas. They are enjoying the 1,340/cubic centimeter with negative oxygen ions, PM 2.5 of 19, and humidity of 97.9, very clear air. This place is famous for its natural oxygen bar nestled in the lush mountains and crystal-clear water. This panda valley enjoys advantageous natural conditions and regional advantages: near the mountains and by the river, verdant forests are full of birds signing and the fragrance of flowers. Here, each lovely giant panda has its own "villa" and "private garden", roosts at different heights, plays with balls and bamboo baskets, and leisurely climbs trees …. The abundance makes the lives of the giant panda colorful, which is also the embodiment of the love for animals and the full respect for their lives by the Chengdu Research Base of Giant Panda Breeding.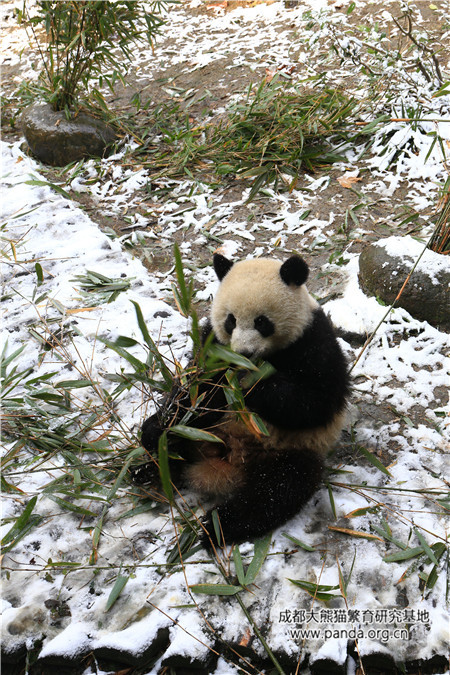 In the following days, Zhonghua Panda Valley of Dujiangyan will be the bridge between ex-situ conservation and in-situ conservation, a sustainable protection platform for the harmonious development between humanity and nature.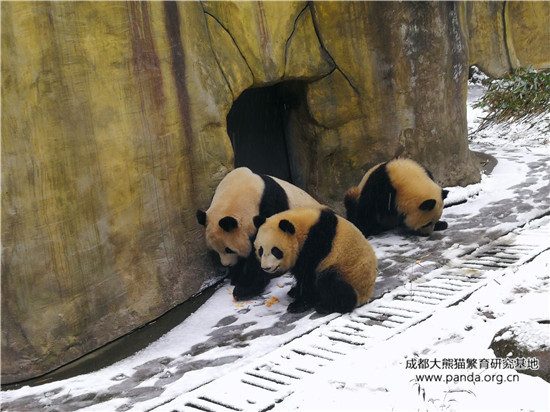 Background links: Why do giant pandas love snow?
Giant pandas inhabit the mountains next to the Yangtze River in the thick bamboo forests at an altitude of 2,600-3,500 meters, where the thin air, thick mist, temperatures below 20°C and humidity above 80% all year round are just right for them. The giant pandas tolerate the cold well and never hibernate, for their fur is very thick, within which is a thick follicular medulla layer. It is excellent as thermal insulation material. And their fur is rich in grease. Such a thick fur coat can provide them with top-notch thermal insulation that also dehumidifies.