In December 2017, the Japan Society for the Prevention of Cruelty to Animals, a renowned animal conservation organization in Japan, sponsored the 10th annual Japan Animal Grand Awards. After careful consideration that lasted several months, Chengdu's giant panda Yongming, currently on loan to Japan, has been awarded first place.
The reasons given for its win at the review meeting state that: Yongming, as a participant of China's first international cooperation program for giant panda conservation, left Chengdu Research Base of Giant Panda Breeding, and now resides abroad in Japan, positively contributing to panda breeding. It has also played an active role in focusing the public eye on Japan, particularly Wakayama Prefecture and calling on the them to care for endangered wild animals as well as the environment. The award ceremony will be held on March 15, 2018 in Shimane Prefecture, Japan (Minato-ku, Tokyo).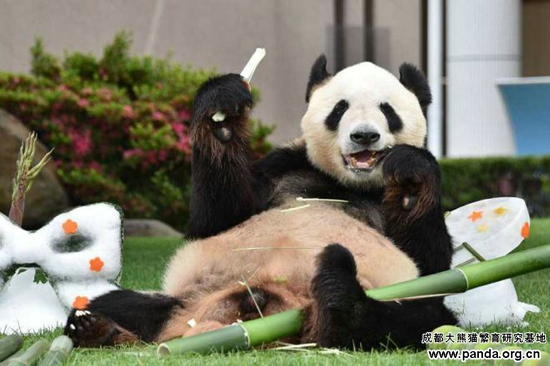 Recent photos of Yongming


Reportedly, the Japan Society for the Prevention of Cruelty to Animals was founded in 1948, and sponsored the first Japan Animal Grand Awards, backed by Japan's Ministry of the Environment in 2008, becoming one of the most renowned annual social welfare events in Japan since. This event has received great fanfare from many mainstream media outlets in Japan. Several Japanese members of the media, including the largest news agency Kyodo News, also reported on the event.
In 1994, Chengdu Research Base of Giant Panda Breeding joined forces with Wakayama Adventure World in Japan to cooperate in researching and breeding giant pandas, and achieved remarkable results. So far, they have nurtured 10 fetuses, 18 cubs, and 15 surviving cubs thanks to their joint efforts. Their cooperation was the inaugural program between China and the world for long-term international cooperation for giant pandas and has led to outstanding results, such as yielding the greatest number of bred cubs through international cooperation, and established the largest captive giant panda population outside of China.
The Chengdu Research Base of Giant Panda Breeding has currently cooperated in terms of scientific research and exchanges for the benefit of giant pandas with 16 countries and regions, currently continuing to cooperate long-term with giant panda research programs in six countries: the United States, Japan, Spain, France, Canada, and Germany. So far, 19 pandas from Chengdu are residing abroad.
News link: the Chengdu Research Base of Giant Panda Breeding (hereinafter referred as the Base) is a well-known conservation and research institution for rare and endangered animals that are unique to China, most notably the giant panda. The Base was founded when six ill and malnourished giant pandas were rescued in the 1980s. As of 2017, it has bred 180 fetuses and 273 cubs, with 184 giant pandas currently alive. These captive giant pandas are the largest artificially bred population in the world. Over the past 12 years, of the total number of pandas living abroad, the Base has bred 2/3 of those that still reside abroad today, while only 1/3 of those living abroad were both bred and born in their respective countries (20 bred fetuses and 29 cubs in total). Furthermore, the Base has been responsible for the International Annual Conference of the Chinese Committee on Breeding Techniques for Giant Pandas, which has continued for 27 consecutive years, becoming China's International Science & Technology Cooperation Base and Sichuan Demonstration Base for International Science & Technology Cooperation.