Recently, Pradeep Kumar Gyawali, Nepal's Minister of Foreign Affairs, and more than 10 Nepal representatives visited the Chengdu Research Base of Giant Panda Breeding accompanied by Tan Hongming, Deputy Secretary of the Base, a long with relevant staff.
Deputy Secretary Tan, on behalf of the Base, expressed his warm welcome to Pradeep Kumar Gyawali and the delegation, giving an introduction of the giant pandas' current status as China's national treasure and the development history of the Base over the last three decades, focusing on its scientific research and giant panda breeding, public education, educational tourism, international cooperation, cultural brand building as well as research on releasing giant pandas into the wild. During the visit, the delegation showed keen interest in China's national treasure i.e. giant pandas, constantly asked the Base staff about giant pandas and repeatedly took photos in front of the den of giant pandas. Meanwhile, the Base staff also offered relevant information about giant pandas protection and interesting stories about their lives, leading Pradeep Kumar Gyawali, the Minister of Foreign Affairs and the delegation to have a deeper understanding and appreciation of the giant panda, an iconic image of China.
Through this visit and exchange, Pradeep Kumar Gyawali, the Minister of Foreign Affairs of Nepal, and the senior delegation representatives expressed their full recognition and praise for work done and achievements obtained by Chengdu Research Base of Giant Panda Breeding in scientific research on breeding, conservation education, and educational tours. Meanwhile, the beautiful natural environment and favorable natural resources of the Base left a deep impression on the distinguished guests.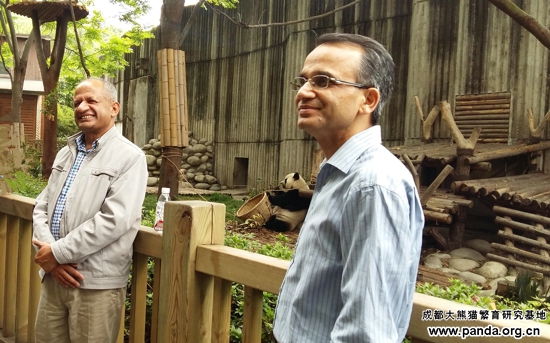 The Minister of Foreign Affairs of Nepal and a representative took a photo in front of the den of giant panda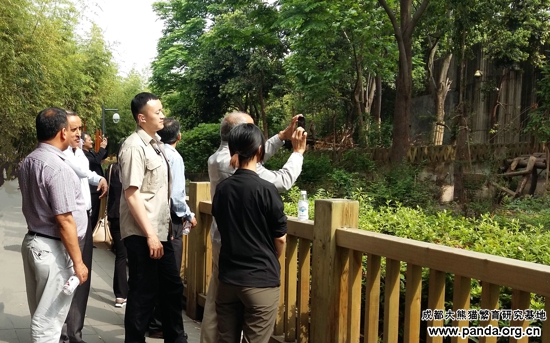 The representatives of Nepal's senior delegation had a in-depth exchange with the Base staff