Recently, Sichuan Airlines Co., Ltd. ("Sichuan Airlines") and the Chengdu Research Base of Giant Panda Breeding ("Panda Base") held a lavish panda adoption, naming, and strategic cooperation signing ceremony titled Beautiful Sichuan Airlines, The Way of the Panda. Leaders and guests from the Propaganda Department of Sichuan Provincial Party Committee, Forestry Department of Sichuan Province, Chengdu Administration of Forestry and Landscape, Sichuan Airlines and Panda Base (Director Zhang Zhihe) attended this ceremony.
At the event, Sichuan Airlines announced that the Company successfully adopted a female giant panda born on July 15, 2017 and named it Sanyou (English name is "3U" and nickname is "Youyou"), Director Zhang Zhihe issued a certificate of adoption to Sichuan Airlines. Later, Sichuan Airlines and the Panda Base signed a strategic cooperation agreement that aims to cooperate in brand promotion, giant panda culture construction, poverty alleviation in the giant panda national park, and other aspects. The leaders and guests participating in this ceremony witnessed the signing together.
Sanyou has an infant name of Zhenxi, and its mother is Qizhen who has given birth to 10 cubs over 6 litters. At present, Sanyou, adopted by Sichuan Airlines, has formally entered the Chinese giant panda pedigree. Desiring to give a meaningful name to Zhenxi, Sichuan Airlines launched the chief endorsement naming activity of The Way of the Panda last year, which attracted many netizens to participate in it, and thousands of names in total had been collected. The nanny at the base explained that Sanyou has a sweet temperament and shows cooperative behavior. It is quiet, and looks downright adorable. Such a giant panda concurrently repaired both inside and out has received a lot of attention online. Panda Sanyou has become an online sensation, and is known as "rich young lady of Sichuan Airlines" on the internet.
Headquartered in Chengdu, Sichuan Airlines took flight from the mainland 3 decades ago. The corporate culture of Sichuan Airlines has long been integrated into a strong regional culture. The culture of Sichuan nurtures and nourishes Sichuan Airlines, and Sichuan Airlines also bears the responsibility to spread Sichuan culture to the world. As the person in charge of Sichuan Airlines explained, panda "endorsement" was hired to support environmental protection public welfare undertakings and also used to make more international friends understand Sichuan Airlines and Sichuan with the aid of the goodwill ambassador-panda. In 2016, Sichuan Airlines released the international route development plan of The Way of the Panda: Enrich and optimize domestic and international route networks and open more "panda routes" based on the geographic advantages of Southwest China; improve transfer service guarantee capabilities and create a "panda hub" linking the whole country and International Connect in the southwest region; integrate panda cultural elements into flight services and create themed flights and decorate airplanes as such, providing "panda journey" flight services with rich cultural experiences to both domestic and international travelers.
Previously, the first of Sichuan Airline's A350 aircraft painted with a panda theme has already been spread across Moments between friends- 8 cute and lovely pandas with Sichuan regional characteristics, one of which was created based on Sanyou-the rich young lady of Sichuan Airlines. In the future, Sichuan Airlines would also launch "panda tour" themed flights on the aircraft, and a large number of panda elements would be included in the cabin environment, catering materials, and service processes. On that day, Sichuan Airlines also released a "panda tour" video, allowing everyone to experience the cute panda tours.
Sichuan Airlines will also cooperate with the Panda Base to launch "panda transfer" value-added products, and Sichuan Airlines passengers shall have the opportunity to see Youyou- the rich young lady of Sichuan Airlines on site with their tickets. Sichuan Airlines will also join the ranks supporting giant panda public welfare protection, promoting Tianfu culture, supporting research and awareness on the protection of pandas and other endangered animals, jointly carry out public benefit activities such as communicating the rich and colorful panda culture to both domestic and international travelers in unison.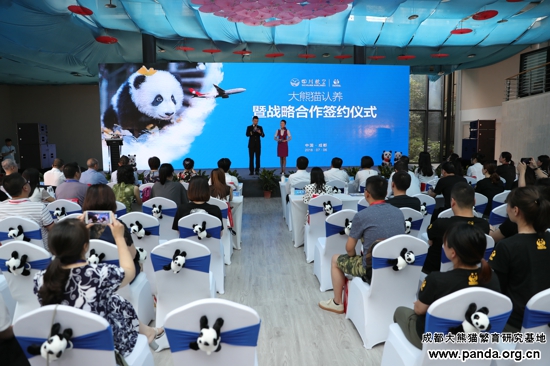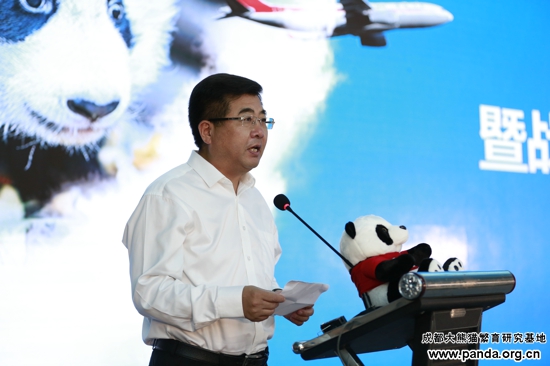 Li Haiying, Secretary of the Party Committee and Chairman of Sichuan Airlines, announces the name of the adopted giant panda



Shi Zuyi, General Manager of Sichuan Airlines, delivers a speech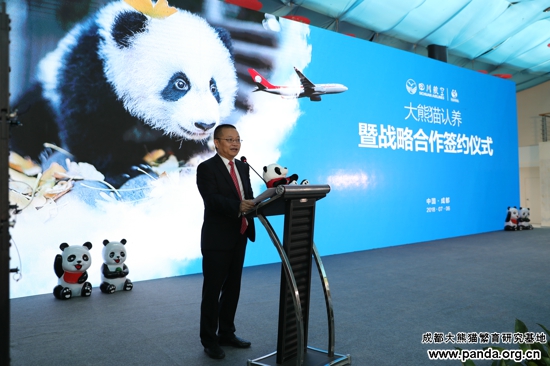 Zhang Zhihe, Secretary and Director of the Panda Base, delivers a speech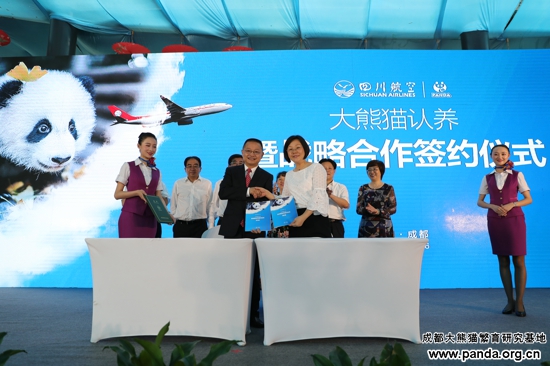 Zhang Zhihe, Director of the Panda Base; and Zhang Wei, Director of Services Marketing of Sichuan Airlines, sign a cooperation agreement on behalf of both parties