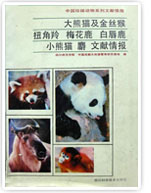 Document Information on the Giant Panda, Snub-nosed Monkey, Takin, Sika Deer, White-lipped Deer, Red Panda, Musk Deer

Edited by: Liu Tiancheng
Published by: Sichuan Publishing House of Science and Technology
Main contents: this book consists of literature reviews, abstracts and indexes on seven rare animals, which respectively are included in 7 chapters: I. giant panda, II. red panda, III. snub-nosed monkey, IV. takin, V. sika deer, VI. white-lipped deer, VII. musk deer. VIII. wild animals, IX. index, with literature review followed by an abstract. For literature collection, we organized, processed or translated all research writings and reports on each kind of animal in China and abroad since its dawn of literature, and compiled into abstracts for retrieval.