Educational Tourism

Despite limited resources, in recent years, the Chengdu Panda Base staff has continued to improve its infrastructure to provide a high international standard for tourist facilities, services and experience.. As a result of introducing educational tourism concepts outstanding achievements have been made, such as being named as one of the top two tourism resorts alongside Jiuzhaigou by the World Tourism Organization, honored as a National AAAA Tourist Attraction by National Tourism Administration in 2006, and attracting a substantial number of tourists from China and abroad. Since its founding, the panda base has served as a national, provincial and municipal demonstrative model to the world, receiving state leaders and distinguished guests.

Concept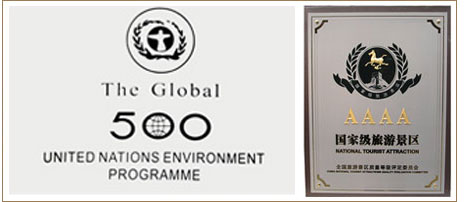 In recent years, utilizing educational tourism concepts the panda base has taken the lead among tourism resorts and deviated from novelty-seeking tourism activities, instead providing an unique program and experience for its visitors so that they leave focused on giant panda and wildlife conservation. The panda base has developed its facilities, exhibits and abilities to serve the fore-mentioned concept.

Landscape layout

The Panda base is easily accessible, as it is located no more than 10 kilometers north of Chengdu on the Futou Mountain. Rivers, lakes, brooks, ornamental green lawns and greens, wild bamboo forests and, woods, man-made dens, rocks, caves and plant pits, simulates the panda's natural ecological environment. The landscape combined with enrichment and climbing apparatuses, create a natural and mentally healthy environment for the pandas.

Attractions

1. The paths in the panda base are flanked with thick fernleaf hedge bamboos, Qinsi and other ornamental bamboo oriental cherry, lindera megaphylla and other ornamental plants compatible with the natural environment of the panda base.

2. The panda base is also inhabited by other endangered wildlife, including red pandas, swans, peacocks, birds, butterflies and hundreds of insects.

3. The panda base is known as the best tourist destination to get closer to the rare giant pandas. Visitors can closely observe the giant pandas of different ages resting,eating and drinking, playing with each other, using enrichment toys,, or watch female pandas nursing their cubs in the nursery rooms.
Tourism attractions

The Panda base has developed used experience-based tourism programs to promote a combination of environmental protection and scientific research with tourism, thus raising increasing visitors awareness and increasing. One example is having experts at the Panda base guide tourists, instruct them how to feed giant pandas and their cubs, and teach different ways how they can protect these beautiful creatures.

Planning

1. The Giant Panda Museum, a landmark of the Panda Base to be opened to the public will be an exhibition center that showcases giant panda protection achievements, promotes science, and educational tourism. It will fully present the evolution and current situation of giant pandas and increase awareness how visitors can protect endangered or rare species through a number of experience-based activities.

2. The construction of Dujiangyan Research Center of Giant Panda Breeding and Release under Chengdu Research Base of Giant Panda Breeding (Giant Panda Canyon) will be completed and integrated with the planned Azalea Garden of China nearby. Together they will form another high-end international tourist resort in Dujiangyan, Chengdu. At that time, an ecological conservation and education tourism model and a environment-friendly industry will be established to breed the giant panda in Chengdu Panda Base and study the release of the giant panda to its natural habitat at Dujiangyan Research Center of Giant Panda Breeding and Release. This would merge the giant panda and education conservation together.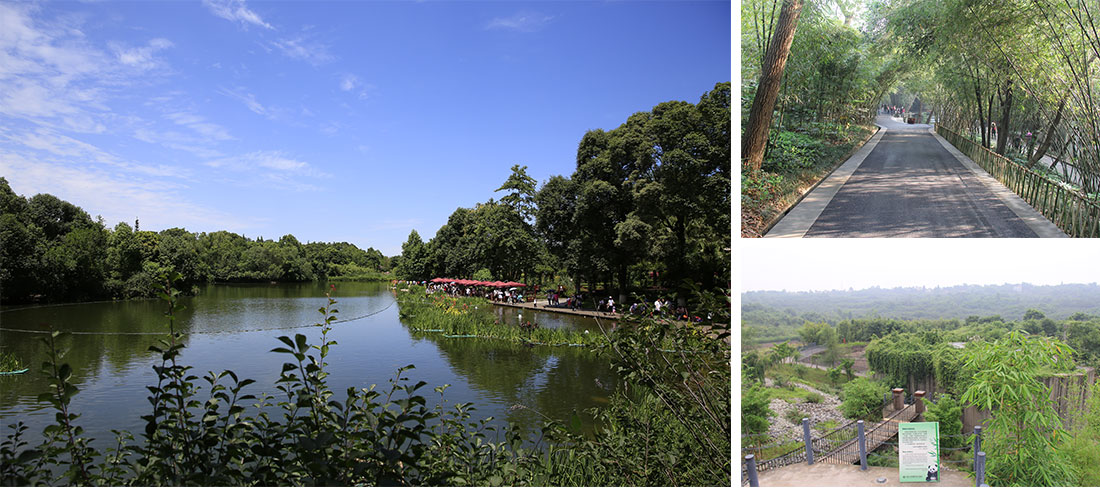 Instructions to Visitors

Please keep quiet. Do not disturb wild animals with loud noises. Giant pandas and other animals are quiet by nature and will be stressed by loud and sudden noise. We must maintain a quiet environment for the giant panda to ensure a pleasant visit for you and other visitors.

You may take pictures, but you are not allowed to use a flash. The eyes of animals, especially panda cubs, are vulnerable to flashes.

Do not feed animals. Your food is not suitable for them and will make them sick. Do not pick bamboo in the Panda base to feed pandas either. The giant pandas are fed a rationed diet from their keepers.

● Do not throw anything into the dens to help us maintain the giant panda's eating habits and avoid any risk of disease that could spread to other pandas. Anything thrown into the dens and eaten by the animals is likely to cause severe consequences.

● Don't scribble on anything, including rocks, trees and buildings, in the panda base. Please walk on the path to step aside from vegetation.

● This is a non-smoking area. Smoking, shoot and fireworks are prohibited in the panda base to prevent the risk of fire.

● Don't pick flowers or do anything harmful to the trees or living creatures, including butterflies and caterpillars.

● Do not sit or stand on fences or any other hazardous places, or climb over protective barriers. Your conduct may affect the satisfaction of other visitors. Please sit on the seats provided for visitors in the panda base.

● Do not drop litter including cigarette butts, candy wrappers and food crumbs. Please drop trash at the site properly designated for garbage or recycling or take it away with you. Severe consequences may arise from the trash left by you and eaten by the non-captive wild animals including the giant panda in the panda base.

● Pets are not allowed to enter the panda base.

● If you see anyone breaking the rules please remind them to correct their behaviors. Your cooperation in maintaining the order of the panda base is highly appreciated.

Thank you for your cooperation!
Chengdu Research Base of Giant Panda Breeding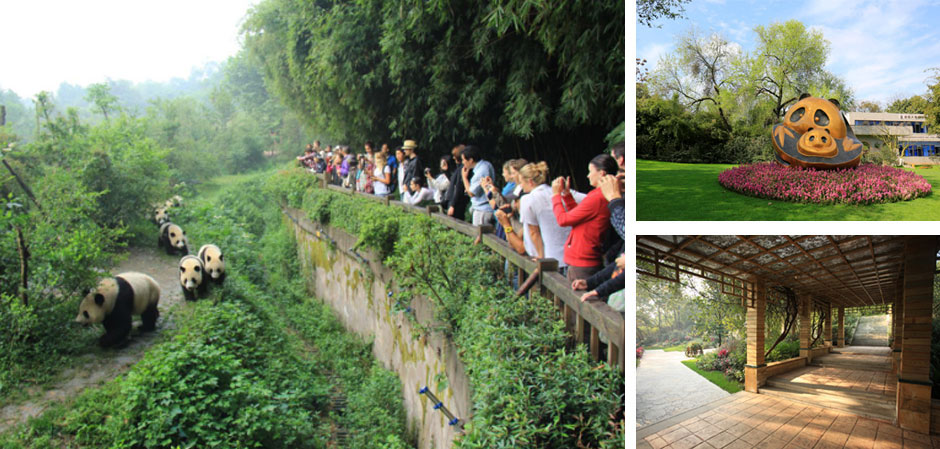 Instructive Tourism

Welcome to Chengdu Research Base of Giant Panda Breeding. From our peaceful, beautiful natural environment to our quality service, your visit will be one of calm and enjoyment. You will learn about giant panda conservation, and how we need your help to protect our earth for us and future generations. We are looking forward to your contribution as a part of our efforts to conserve the natural environment!